CAVAS DEL VALLE / location and main features
The winery of "Cavas del Valle" (Cellars of the Valley) is located 6 hours north of Santiago, 1 hour drive from La Serena towards the Andes.  This boutique winery is run by a retired couple, Raymundo Piraces and Marlies Duerr, in a delightful, tasteful and elegant manner.  It is unique for several reasons.
Firstly, it is the northern most in Chile (that means, the winery with the strongest sun), it is one of the smallest Chilean wineries, the one with the highest altitude, located (1.080 m above sea level).  Besides, the climate is almost desert type, with long, 6 summer months , and extreme dryness.
Tourists are attended directly by the owners, which show you the facilities and serve wine samples while you  relax in an enchanting "pergola" and, finally, the winery is located in the delightful, mystic, and perfect climate of the High Elqui Valley, surrounded by silent mountains and crowned with the unrivalled nobility of the  purest sky, breathtakingly deep blue during the day and magically clear & star spangled at night, (a fact reinforced with the presence of 5 huge international observatories located nearby.)
Cavas del Valle operates inside an ancient "adobe" building that has been lovingly restored, and filled with modern art pieces.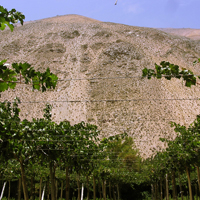 CAVAS DEL VALLE / Produits
The vineyard produces a Syrah – Cabernet Sauvignon Coupage and a pink (actually blush) Muscatel. It's genuine limited annual production of only 20.000 bottles, allows a personalised devotion to the wine and guarantees its unbeatable quality.
Yearly production includes around 1.500 bottles of Premium quality wine, Alto del Silencio ("Hights of Silence"), aged in new French oak barrels and 6.000 bottles of Syrah Gran Reserva, a full-bodied colourful wine, with aromas of wild berries, chocolate and pollen, with firm and complex tannins and an extraordinary long lasting finish. Aged in new French oak barrels for twelve months (Chilean specialized wine magazine La Cav score: 89).
Similar characteristics have the Syrah Reserva, with 4.000 bottles which is aged 6 months in French oak barrels.
Cosecha Otoñal – Autumn Harvest – is made of sun-drenched pink muscatel grapes, harvested halfway through the autumn, giving birth to an exquisitely fruity wine notable for aromas of ripe fruits (peaches, banana, guayaba among others) and honey. Particularly suited as an aperitif or dessert wine.
Rosa Pastilla, a dry Muscatel out of the same pink grapes, harvested in an earlier stage of maturity, has an astonishing wide flavour, ranging from cantaloupe melons to peaches, lemons and different herbal scents.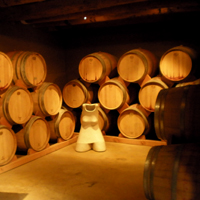 CAVAS DEL VALLE / Organic Wine
Elqui Valley is well known for its extremely dry environment, high temperatures, long lasting summers and frequent winter frosts, a typical half dessert climate, conditions that bear an amazing similarity with those existing in the supposed origin of the Syrah grape variety (main theories associate it Persian ancient capital Shiraz).
This idyllic agro-climate naturally lends itself to organic viticulture where grapes are grown without the use of industrial fertilizers, herbicides, fungicides or pesticides. Surprisingly in this terroir it is cheaper to grow organically than in the traditional ways!!
Since the first harvest in 2003 Cavas del Valle has been working to officially certify it's organic conditions following the regular certifying process. So, since 2005 harvest, Cavas del Valle red wines bear the ORGANIC SEAL.
CAVAS DEL VALLE / Market
The Vineyard sells all of its production directly, it does not have any intermediates, its main market being tourists, Chilean and foreign, (enjoying Elqui Valleys attractions) local restaurants and also exports to Europe and the US.